The 7 Best Party Themes
---
There aren't many party themes I don't have personal experience with. Professionally, I am hired to attend parties and keep people entertained, but before that I hosted and attended many parties for my own enjoyment in college.
Of all the party themes I've come across, these are by far the best. I base that on the overall enjoyment level of all involved (Certain party themes require too much work from either the host or guests). Also these themes appeal to most everyone and have multiple social opportunities inherit in them. I hope you find one you fall in love with!
[tabs tab1="#7″ tab2="#6″ tab3="#5″ tab4="#4″ tab5="#3″ tab6="#2″ tab7="#1″]
[tab]
Casino Party
This is as close to a turn-key party theme as there is. A vegas casino theme allows those who want to dress up to not feel out of place, while the more creative can let their imaginations run wild (Elvis costumes anyone?). You can either hire professional card dealers and tables, or run them yourself with a minor investment in some chips cards and dice. Entertainment such as a magician, live band, or impersonator are a perfect fit for this theme as well.
[/tab]
[tab]
Black and White (And Red)
A sophisticated theme which is simple to prepare and attend. Attire is limited to black and white, and the decorations should reflect the theme as well. If you want to add a spark of color, red can also be permitted. The elegance is in the theme's simplicity. Plus everybody looks great in black.
Sophisticated entertainment such as a classical musician or magician are great fits for this theme.
[/tab]
[tab]
Decades Party
50's, 60's, 70's, 2010's- it doesn't matter which decade you pick as people love to look back and reminisce about the past. This is a theme which does well for outgoing and creative groups- and benefits greatly from a costume contest. Activities can include novelty games from that decade. Obviously the music should also reflect the theme.
[/tab]
[tab]
Masquerade Party
This party theme is popular around Halloween, but can be held year round as a variant to any dance or formal event. Guests are told to bring a mask to wear for the event. It is up to the host to decide how strictly guests should keep their identities a secret.
Activities should play up the playful nature of each guest's anonymity. Party games such as 20 questions or Tell a Lie are great. Dancing should be a major part in any masquerade party.
[/tab]
[tab]
Ugly Sweater Party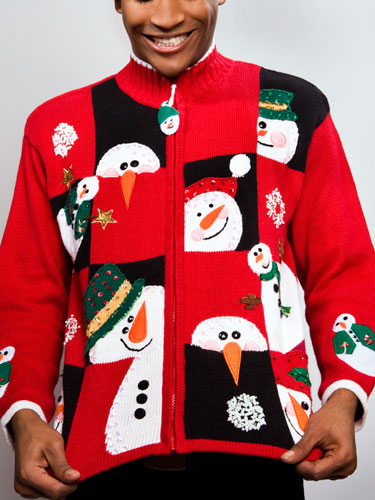 A great party theme for winter or summer (Christmas in July)! Guests wear the ugliest sweater (usual holiday themed) they can find. A costume contest is held to determine who's sweater is indeed the ugliest, with that person winning some prize and bragging rights for the year. It is a funny, inexpensive, and cozy theme which has many fans.
Holiday and family activities are a natural fit here. Think board games and hot coco.
[/tab]
[tab]
Alphabet Party
A party theme for the more abstract and creative groups. There are two ways to play: the host either decides in advance on a letter for everyone, or guests play using the first letter of their first name. Everyone then dresses up as something, ANYTHING, which begins with that letter. Again, this is another party theme which begs for a costume contest. Games and decorations can also reflect the theme as well.
It's also fun to book an entertain which begins with that letter, or who's name is that letter.
[/tab]
[tab]
Guest of Honor Party
I believe this is the greatest theme on the planet for any tight-knit group of friends or coworkers celebrating one of their own. A guest of honor is chosen, for example the CEO on his birthday. The theme is simple: everybody dresses as the guest of honor, mimicking their dress- likes, dislikes, habits, etc. The more of a character the guest of honor is, the better.
But here's the really fun part- the guest of honor has no idea of this theme. They show up normal and are surprised by everyone having dressed up as them. It's even better if the whole party is a surprise party!
[/tab]
[/tabs]